"Thanks for my Carry Conceal! It was an awesome class that I would recommend to everyone and I won't be shy and say I'm a pretty good shot thanks to you!"- Elaina H., Denver, CO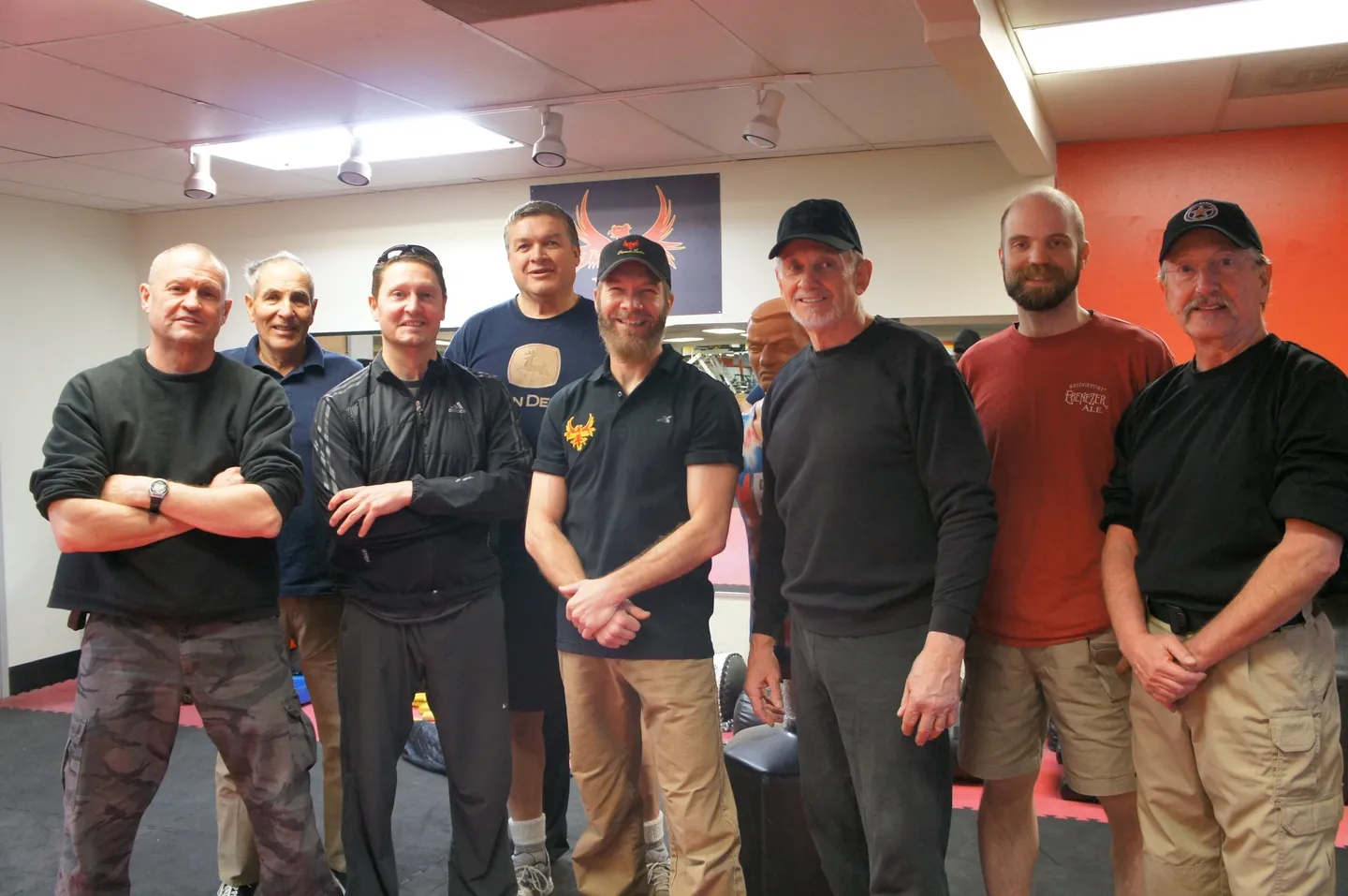 A woman & mother's perspective
Creepy Guy on the Light Rail:
"Hi Amy & Tom! We have missed you guys so, SO much. I am moving; however, I wanted to let you both know what a great impact you have had on our lives.
The other night Sofia and I were returning from a gymnastics meet with another mom and daughter. We were taking the light rail and there was a character, smoking some stuff from a crunched up aluminum can, keeping his eye on us. Well we were keeping our eyes on him too! He got on the same train as us, and was staring with a creepy grin on his face at us the entire ride. Sofia says she saw him make a gun symbol with his hands at her at one point. When it was time for our stop and we got off of the train, the creepy guy got off then too! We walked as closely as we could with other men that departed the train, and got to our car as quickly as possible, all the while keeping tabs on the whereabouts of this other character. Thank God nothing happened from there. But my adrenaline was pumping, to say the least.
Many times since that moment, I have thought to myself, what the heck would I have done if this guy would have pulled something with us?! Two moms with young daughters late at night.... My ultimate goal was to make sure he knew we were aware of him, and to not present an opportunity for him to find us alone. However, as a girl that grew up in up in a home with domestic violence, I am always looking forward to my next line of defense.
I would like to think that my mere carriage says "don't mess with me", and usually that makes me feel pretty confident. But this guy was high, and we had two young girls under our protection. Honestly I was really unsettled by how afraid I actually felt.
God only knows from one moment to the next what situations will arise, and how they will present themselves. But I am so thankful every day for feeling like I will give someone hell, even if they eventually win. I am no fool. A man can overpower me 9 times out of 10. But so much of a battle goes beyond sheer strength. People usually look for victims, not fights. And my goal is to encourage them to look elsewhere!
I LOVE what your classes do. I am so grateful for people like you. I thank you both from the bottom of my heart. I want my kids to feel like they CAN fight back, with knowledge! We are not helpless. You are both so valuable. Your lessons are incredible. And we appreciate you so much. Rock on! Missing you, and sending love." – Erin E., Denver, CO
"I would like to share with you the experience I have gained from training with Tom and Amy Johnson of Pinnacle Tactics. They are extremely dedicated, amazing instructors, and expert in every facet of personal protection.
I have known Tom & Amy for 16 years, 10 of which included attending Pinnacle Tactics classes. As an average-sized woman, I am now confident and knowledgeable enough to not just defend myself in many situations, but to proactively protect myself, property, and even others. Using Pinnacle Tactics I've conditioned myself to prepare for weapons attacks, have developed reflexive counter attacks to various types of assault situations, and most-importantly have the mind-set needed for my own personal safety.
It is empowering knowing I can protect myself rather than simply defending against violence. This way of thinking has really changed my life, and that alone makes it worthwhile for anyone, especially women, to learn what Pinnacle Tactics training offers. It's a peace of mind that I think everyone can benefit from. Not only are the classes exhilarating, but the wisdom you gain is amazing. Tom & Amy are people of good moral character who strive to educate clients in living safer, which is especially important in this crazy world we live in. With all the rampant crime going on today, you owe it to yourself and your family not to be a statistic. Give it a try. You'll gain so much in so many ways, and truly, your life may depend on it." -Jennifer R. of Denver, CO.
A married couple dedicated
to working out together
Tony and wife Carol trained for 6 years while in their 60's, driving an hour each way for a 90-minute, weekly session. These are Tony's comments: "I've studied three types of martial arts, but none are as effective as Pinnacle Tactics. You learn to control and overcome threats within seconds of attack. More importantly, Tom is knowledgeable in all aspects of personal protection, is friendly, provides constant encouragement, and keeps things positive. He always has something new to share. If you want basic defense against guns, knives, clubs, fists, holds, and general attacks, Tom and Amy Johnson should be your instructors." –Tony & Carol B. of Limon, CO.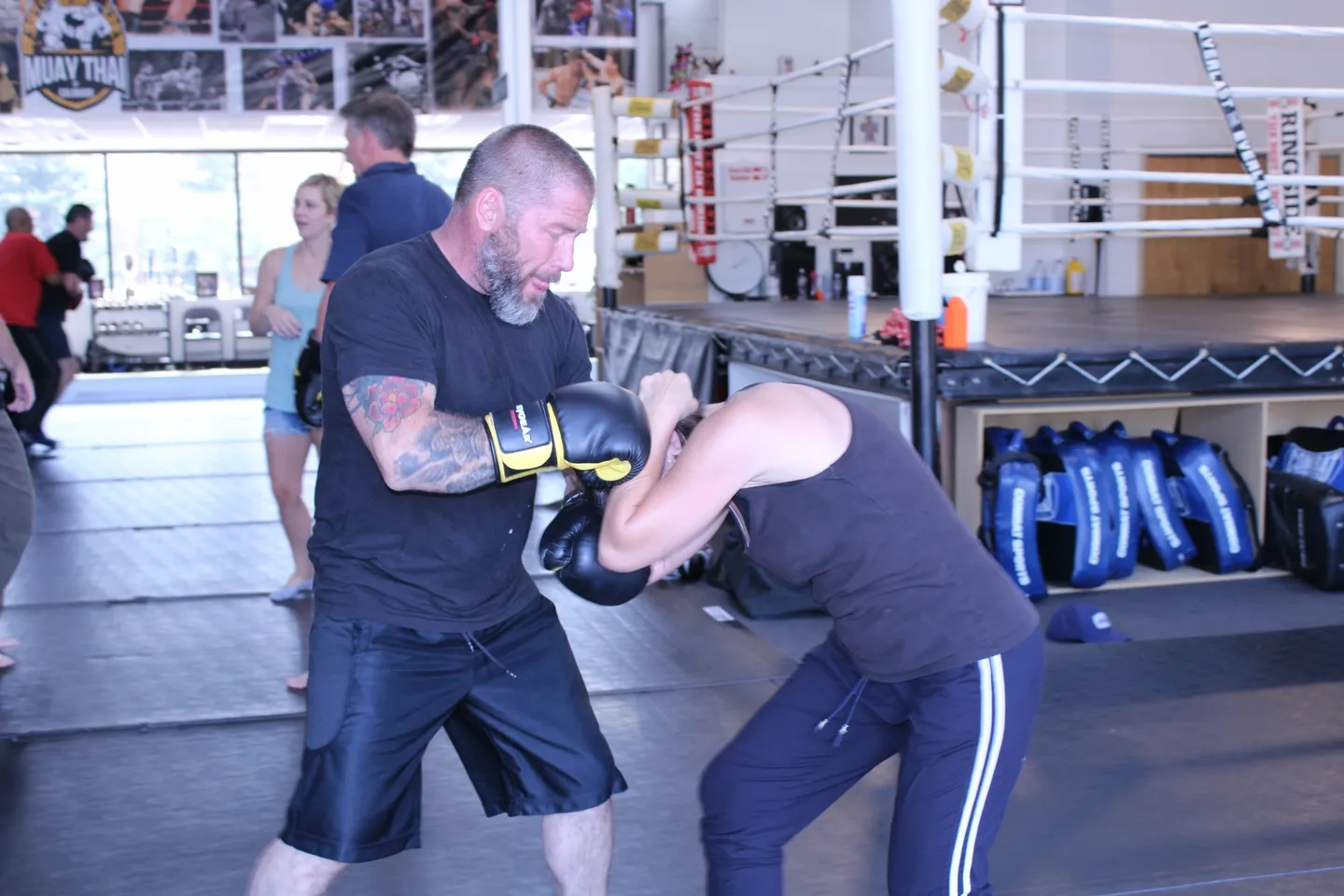 An enthusiastic young student
"This is the hands down best class around. Tom is not only a great instructor...he is literally the best teacher I have ever had in my entire life. He takes the time to show you the exercise from multiple angles & floats around the class offering helpful advice. My favorite part is if you ask him WHY the move is done in such and such of a way, he not only shows you why but he has the knowledge to explain why you should do it that way. Pinnacle Tactics training is fantastic. You can't go wrong here folks. Take one class with Pinnacle Tactics...just one...I guarantee you that you will be hooked." - Rusty S. of Aurora, CO
A mother grateful for her son's progress
"My son's confidence has grown immensely since he started training with Pinnacle Tactics for 7 years. Tom is amazing with kids, helping them learn invaluable skills should they ever have to fight -- skills that involve their heads and hearts in addition to their muscles. My boy has come so far from the timid kid he was, and despite being peaceful by nature, he looks forward to his class time every week. I hope my son never has to use the physical skills he's learning, but should he ever need to, we're confident he'll fare far better in a fight with Tom's wisdom guiding him" - Cheresa C, Parker, CO
A family man & international business traveler
"I have attended the Johnson's school for the past 8 years. They have shown me, as they show all students, a truly effective self-defense approach that is practical, tested, and that can be applied by almost anyone. After nearly 100 class sessions I can say that I've always left class knowing more than when I came in. The training is constantly evolving because Tom and Amy continually develop their own innovations which they pass along in class. Pinnacle Tactics is not hide-bound by tradition. The confidence and awareness I've gained towards my personal safety and that of my family has meant that I'm able to avoid potentially dangerous situations both domestically and internationally. It is amazing how bullies will quickly back down when they are faced with a confident defender regardless of the culture in which they live. In addition to teaching hand-to-hand self-defense Pinnacle Tactics teaches students defense against weapons anyone may encounter in today's world including hand guns, knives, and baseball bats. For students who wish to go there, Tom & Amy also teache tactics for using guns, knives and sticks in a defensive mode. I've been licensed to carry a concealed handgun for many years and have taken many good classes on the subject. But I've learned more from them on practical self-defense with a gun than from any other instructor. Finally, no description of Pinnacle Tactics classes would be complete without mentioning that Tom is a great instructor and is inclusive of all levels of students - men, women and kids. He teaches with humor and humility and without a hint of macho BS that permeates so many self-defense schools." - Brian F. Denver, CO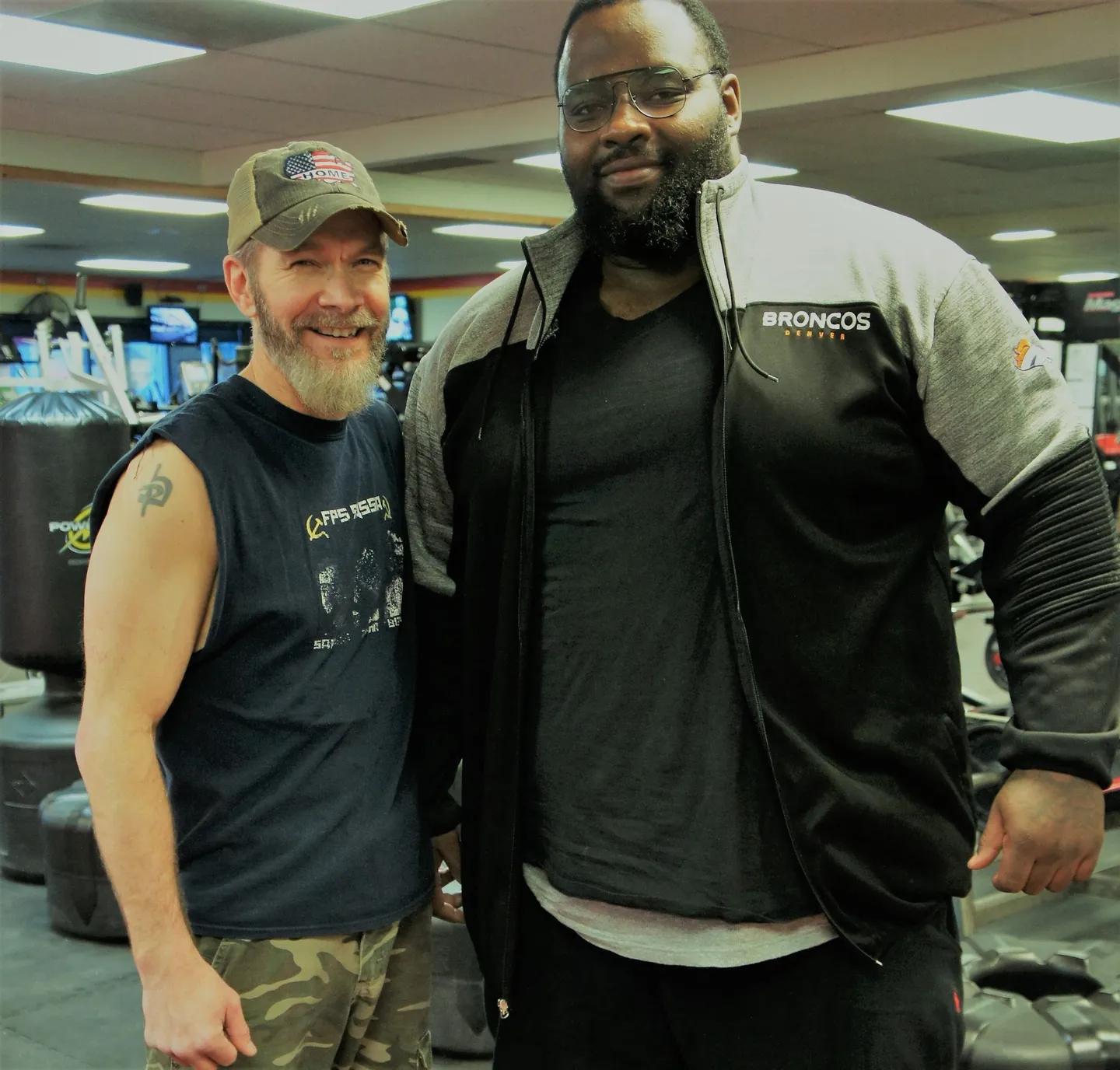 One of the most helpful things today was knowing I don't have to be a hero. Also realizing a gun is a machine, and if you know how it works, it isn't as scary. The gun defense exercises were great, and really pushed me to think about actually being faced with a gun. In the exercise I couldn't use my gun when my partner attacked, and doing it felt very realistic. Thanks, Tom!- Dave C. of Denver, CO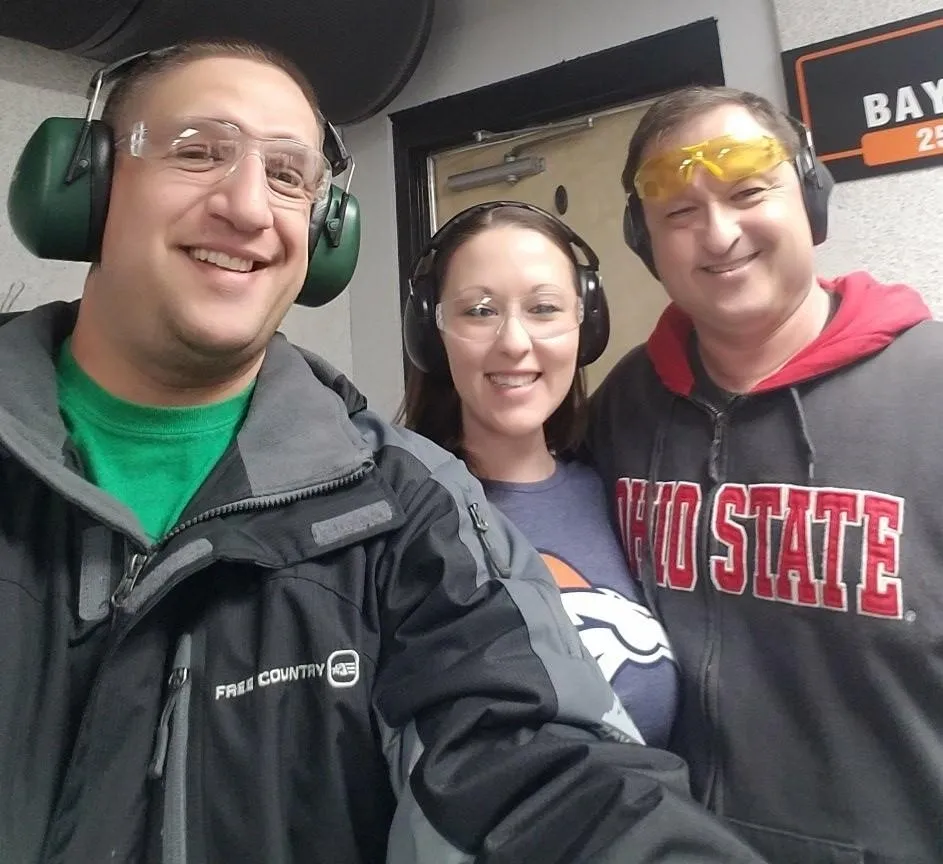 "I love taking this class with my kids for so many reasons. These are practical, applicable, life-saving skills learned in a fun setting and we get a great workout as a family. Working with my kids allows me to challenge them to the degree that we are all comfortable with and leaves us all with a sense of confidence, awareness, and empowerment.
Additionally, I enjoy sparring with them and they enjoy it as well. I like that I can provide resistance and challenge while they are learning how to escape a choke hold, etc. I also like that I can encourage them to hit me as hard as they can, and give them a good bop in return. I also think that most of the time it would be an adult trying to kidnap the kids or whatnot, so training with me gives them a better sense of the force required to execute the moves.
We are so grateful we have been allowed to take this class together. Just putting it out there that parents working with kids instead of kids vs kids and adults vs adults holds a ton of incentive, enjoyment, and satisfaction for us as a family...We look forward to class on Saturday, and thank you both immensely for providing this class. To find something we all look forward to doing together has been great!"
-Erin E., mother of Adrian and Sofia
From 8-year old Adrian, re: taking Kids/Family Class:
"It's fun, it's good exercise, and I learn how to defend myself. I like punching ".
Active Shooter for Teachers
"It was really a good experience - until you try something you don't know if you can do it.  I "enjoyed" practicing on other teachers and feeling more competent about doing the punches and take downs.  I feel that I might be able to do some of the skills since I now have them in my brain.  (I hope that makes sense).  I think the training was great for a staff of varying levels of fear and ability. I will definitely recommend the class to other schools.  I have already told a couple of principals that they needed to call you! Thank you for empowering us to feel more comfortable with such a hard subject."  – Lisa T., Private School Principal, Lakewood, CO
Don't Jump the Gun training
"The nice thing about this training is its dynamic, and so you learn by doing rather than just having it demonstrated or explained. Lots of reps! It makes you think about the fact that you have to get to a position where you can get to your gun and retain it, instead of risking drawing it only to have it taken from you. There's more movement than is associated with practicing shooting at the range - even if you can draw and shoot - it's much more dynamic. Because it's live action, and just a mad scramble, you run into scenarios that evolve naturally and are unanticipated. Then you learn more things to drill. You have another person trying their hardest to get to the gun. And you're trying your hardest to retain it and only use it when absolutely necessary." - Mark G, Denver, long-time student
Colorado Ranger Officer Training
"This was by far the most effective, practical training I have had since becoming a Ranger. Thanks so much!" – Larry S.
"Awesome class offered repeatable moves/tactics to engrain proper self-protection and officer safety. Appreciate the opportunity to try techniques that are practical to maintain personal safety. – John D.
"Great class – want more. No criticisms – instructor is great." – Dave R.